"We tested the car and

it ran quite well

"
-Michael Baltierra, ABC News reporter


OCTOBER 2014 UPDATE -

2050 Magazine: "Using electricity from a renewable source such as wind, the Airpod,
with its low material and production energy requirements, could become
the most environmentally friendly road vehicle yet."

While source article of TheRawFoodWorld states that "One tank lasts over 125 miles and takes a mere two minutes to fill up" (this is for the smaller AirPod and using high pressure station to re-fill) and the cost for these 125 miles of travel? One Euro which is (late 2014) about 1.28 U.S. dollars (which for gasoline would buy you less than 0.3 of a gallon, or under 10 miles of travel in a regular car..!)
Image source: wikipedia More images of AirPod are here
SOURCE Oct 2014 article: here



2013 update -

"Here comes the first air car that will make our city clean" its release is scheduled for the middle of next year. We are talking about the first air car which [could drive] 100 km [with fuel costs of just] 1 euro." (Italian) starting with the "mini" sized AirPods (foreground; see also larger CityCAT vehicle in the back on the right) in this article: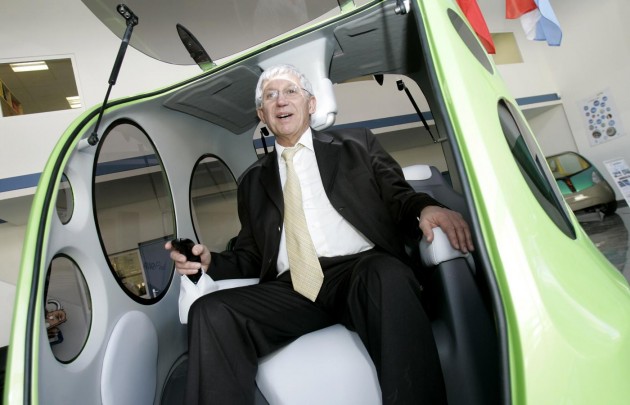 Can refuel in two ways; either with specialized high-pressure station: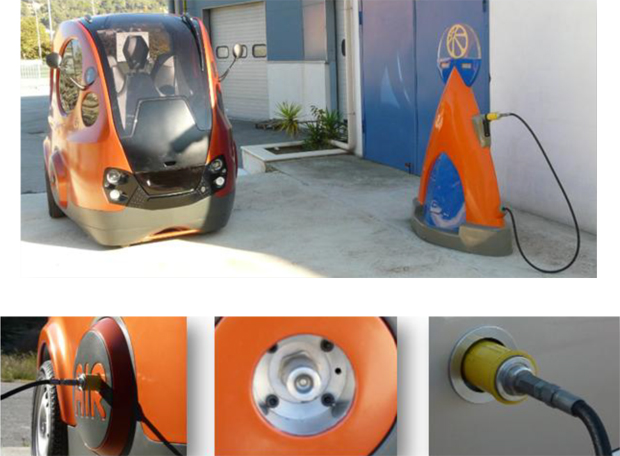 ..or just "plug in" to re-pressurize the high pressure air cylinders, which use the same safety standards used for storage of natural gas, to store the much less volatile and much safer, simply pure air: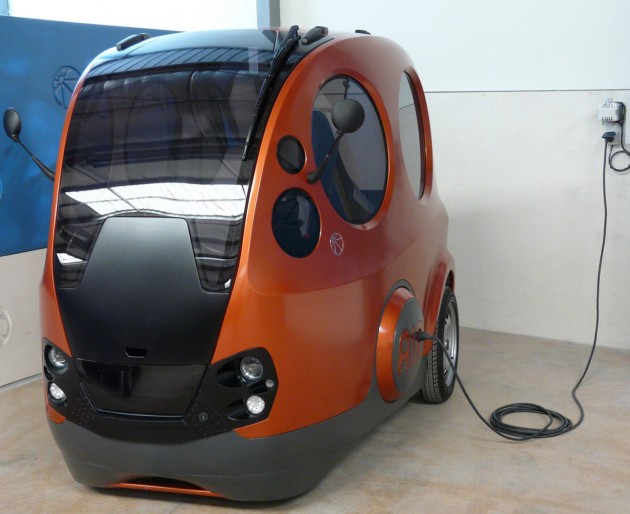 ---
A more economical alternative to electric cars? ☀ ~ MDI's Compressed-Air Cars! ~ ☀
(not an official MDI site; this is a "fan" page only)


Above: MDI Founder Guy Negre with
MiniCAT at Paris Car Show.
Soon? Update on collaboration with Tata Motors of India, one of the world's leading car manufacturers.
May 2012: Second Update..Major Tata News:
With 5 years past, many of us started to wonder whether the partnership between MDI and Tata Motors (a multi-billion, & 18th largest car company in the world) would amount to anything. May 2012 Update: Tata now states Phase I ("proof of technical concept") has been succesfully completed, and Phase II "working together to complete detailed development..and technical processes to industrialise a market ready product" has now started
→ See Tata's Press Release ←
2012 Update: New Pictures!:

PHOTO of March 2008 MDI Compressed Air Engine (CAE) in NY Motor Show
→ NEW: MDI Car PHOTOS!
New images Part 2:
Charging MDI directly with renewable
Wind/Solar/Hydro – click here
---

Green Cars Ecological Automobiles Hybrid Hybrids Electic Vehicles Solar Power Photovoltaic Wind Power

---
Media Coverage:
Highlights:
MDI Sites:
Beyond Tomorrow 8 min video
Energy: 90m3 air @ 300 Bar
Official MDI site: www.MDI.lu
Riding on Air Newsweek (scanned)
Car Weight: 720kg
MDI's official USA hub:
ZeroPollutionMotors.us
France to unveil air-powered car (BBC)
Recharge: 3 mins @ air-station!
ZevCat MDI for
West Coast of USA.
TidePool.org Great Survey Article/comparisons
Recharge: 4 hrs @ home (electric)
MDI on Wikipedia
WIRED (2003) & CNN/Money: Jules Verne?
Cost: $12,000-16,000depending on model
AirCars in general on Wikipedia.
Major investment in MDI
see also here
Urban Range: 120mi (higher w/solar panels)
Non-urban: 50mi on air >800mi w/dual energy
Other links will be added..

Above specs are for CityCAT as of a few years ago; improvements continue beyond these!

Air released by exhaust is cleaner than ambient air (having gone through filters) ; Max speed was 60mph ; now is: 69mph

Bi-Energy version coming soon (top speed 96mph; 848 mi range; 106 mpg equiv; .0158 lbs/mile CO2)


Car will meet full safety and insurance standards in the US
Images: Renewable-Energy Chargers for AirCars!
Charging MDI directly with renewable
Wind/Solar/Hydro – click here

French-English forums
(independent of, but about) MDI aircar


New: OneCAT cars

Green Cars Ecological Automobiles Hybrid Hybrids Electic Vehicles Solar Power Photovoltaic Wind Power


Green Cars Ecological Automobiles Hybrid Hybrids Electic Vehicles Solar Power Photovoltaic Wind Power
Below: the four models of CityCAT (Compressed Air Technology) cars:


>
Cars can be recharged in ~5 hours by plugging into regular electric outlet
or in 3 minutes using high-pressure refilling stations pictured above
Green Cars Ecological Automobiles Hybrid Hybrids Electic Vehicles Solar Power Photovoltaic Wind Power

Green Cars Ecological Automobiles Hybrid Hybrids Electic Vehicles Solar Power Photovoltaic Wind Power
---
---
How are things here?



Green Cars Ecological Automobiles Hybrid Hybrids Electic Vehicles Solar Power Photovoltaic Wind Power


Disclaimers: We are not associated with Guy Negre's MDI and have no financial stake in MDI. There is no guarantee this technology with meet all of its expectations, nor, even if it does, that it will be commercially successful. We have no interest in debating nay-sayers. This site is merely to advertise what MDI is trying to achieve, which, in our view, is ecologically and socially very positive, exciting, and in our view, has an excellent chance of success. We encourage you to research MDI via the above links, and if supported by your conclusions, to support MDI by i) investing (solely at your own risk), ii) forwarding information to other investors, and/or iii) sharing information with the general public. If you are interested in possibly buying a car from MDI, you may, without obligation see ZeroPollutionMotors
-This page was set up around 2003, and updated since, by an MDI fan from the Yahoo MDI discussion forum, http://groups.yahoo.com/group/mdiaircar with advice/feedback from that group. (See also AirPoweredVehicles group)
Hosting provided by

Cyber-Media.com

Tomorrow's technology...domains for sale/rent today.
For Sale:
Imaginistics.com / Cyber-Media.com
ViewerSelect.com / SavvyMerchant.com
LoveSavvy.com / LoveSmarts.com
See listing at http://Cyber-Media.com

Automobiles Cars Technology Ecological Environmental Green Innovation Pollution Science Climate Fossil Fuel Alternative Energy Green Cars Environment
Information is presented here "as is" and while we strive to be accurate, we are not responsible for any possible errors or omissions.
See bottom of Cyber-Media.com hompage for contact information.
© Copyright 2003-2012, Cyber-Media.com